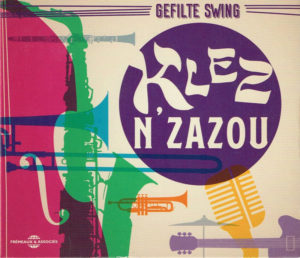 Zazou – the 1940s' youth movement in Paris inspired by jazz and swing music – meets Klezmer on our new CD, with a wide range of emotion: the essence of the Gefilte Swing band.
We've got lots of Zazou, along with Jazz from New Orleans and the Prohibition era, plus some Yiddish-flavored French songs. It's all there, along with rock and reggae ! The Gefilte Swing's new album is totally zazou – call it barjo – meshugga – or just plain crazy ! That is what's so wonderful about klezmer: open to all types of music, it works with everything, which is why we have invited ten guest artists: vocalists and instrumentalists making music together – Yiddish, jazz, and rock: Wa da la di dou da di dou la wa wa !
« The whirling twisting music form know as Klezmer, wich originated among the Ashkenazi Jews of Eastern Europe, can have a sad or festive climate. Here it has all the sweat of a swing club in Harlem during the Depression, as the Gefilte Swing, led by Alexandre Litwak, plays its own festive brand of jazz that borders on world music, with occasional forays into the world of pop. They nonchalantly borrow from the zoot-suit subculture with a shameless desir to live for swing and the result is hedonistic generous and invigorating. And like the Carte de Séjour group in the 80's, they own version of Douce France, wich Charles Trenet wrote during the war, only this time it's sung in Yiddish...»
Augustin Bondoux / Parick Frémeaux for Frémeaux & Associés
Gefilte Swing
Vocal : Muriel Missirlou / Trumpet : Laurent Vassort / Clarinet & alto saxophone : Alexandre Litwak / Accordion : Wilfried Touati / Tuba : Pascal Fabry / Drums : Clément Moraux.
The guests
Vocal : Mélanie Gardyn & Judith Marx (4) / Clarinet : Laure Berthaume & Franck Séguy (2,4, 14) / Trumpet : Shona Taylor (2,9) & Michel Bonnet (2,9,14) / Trombone : Jean-Pierre Dumontier (2,14) / Piano : « Jopo » (2,4,14) / String-bass : Raphaël Ducasse (2,4,14) / Drums : David Eleouet (2,9).
Recorded in 2018 at studio « Montmatre Recording » by Andréas Lecter and PH.  Graphics : Production du Golem.