The Gefilte Swing or the "six legged fish"
Take a carp and stuff it, you get the gefilte fish, the most famous dish of eastern European Jewish cookery.
For the Gefilte Swing, it is the same recipe : stuff some klezmer with popular American music from the 20 and 30ies : fox trot, charleston and swing.
The Gefilte Swing play the klezmer tunes as jazz standards. And as for jazz, improvisation takes a great part in the band's playing.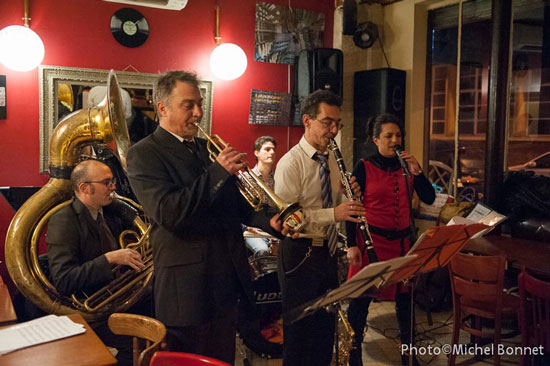 ---
The day klezmer met swing
The gefilte swing mix together klezmer and swing, and takes over a trend which had started in the 20's. With Dave Tarras et Naftule Brandwein, both Eastern European musicians who landed in the US in the early twentieth, began the introduction of jazz in klezmer.
With the next generation and people like Sam Musiker and Ziggy Elman, klezmer and swing are brought closer. Today with the Gefilte Swing, they never let go of each other  and live happily ever after.