Klez N' Zazou, new cd !
Zazou – the 1940s' youth movement in Paris inspired by jazz and swing music – meets Klezmer on our new CD, with a wide range of emotion: the essence of the Gefilte Swing band.
We've got lots of Zazou, along with Jazz from New Orleans and the Prohibition era, plus some Yiddish-flavored French songs. It's all there, along with rock and reggae !
The Gefilte Swing's new album is totally zazou –call it barjo– meshugga – or just plain crazy !
That is what's so wonderful about klezmer: open to all types of music, it works with everything, which is why we have invited ten guest artists: vocalists and instrumentalists making music together – Yiddish, jazz, and rock: Wa da la di dou da di dou la wa wa !
They talk about it in the press.
– New Folk Sounds / Dries Delrue, Article in dutch, august 2019
« If the klezmer and yiddish song revival appears to be behind us, this Gefilte Swing CD clearly places the genre on the frontlines of the musical scene. Klez N' Zazou"is a CD to cherish. »
– Frémaux & Associés / Augustin Bondou & Patrick Frémaux
« Their nonchalant approach, rooted in the Zazou's will to live life to the fullest, getting by on swing regardless of the cost, offers us a generous and reinvigorating hedonistic music. » (note – the Zazou, French equivalent of our 1940s' Zoot-Suiter) »
– Bruno Guermonprez / Jazz News Magazine, september 2019
« Gefilte Swing perfectly unites those zones of influence that never bend to tradition, enthusiastically finding their place in today's world. »
– Blues & Rhythm / Norman Darwen, october 2019.
« If your taste leans towards swing or klezmer,or maybe, as i said, if you just want something rather different, try and give it a listen. »
      Don't miss the next gigs
January, 14, 22 : Cabaret Klezmer in Chevilly-Larue
---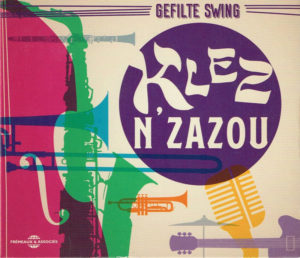 Gefilte Swing : Vocal : Muriel Missirlou / Trumpet : Laurent Vassort / Clarinet & alto saxophone : Alexandre Litwak / Accordion : Wilfried Touati / Tuba : Pascal Fabry / Drums : Clément Moraux.
The guests Vocal : Mélanie Gardyn & Judith Marx (4) / Clarinet : Laure Berthaume & Franck Séguy (2,4, 14) / Trumpet : Shona Taylor (2,9) & Michel Bonnet (2,9,14) / Trombone : Jean-Pierre Dumontier (2,14) / Piano : « Jopo » (2,4,14) / String-bass : Raphaël Ducasse (2,4,14) / Drums : David Eleouet (2,9). Recorded in 2018 at studio « Montmatre Recording » by Andréas Lecter and PH. Graphic : Productions du Golem.
















photos : Michel Bonnet & Pierre Deloffre